EDITOR'S NOTE: This post is now outdated. Visit my gear page for a more current setup.
---
I get asked about my podcasting gear from time to time, and as I posted a picture of my at-the-office-where-I-record desk online earlier today, I thought I could write up what I'm using.
I would like to note that this is in no way the gear you have to use for your show. I've built up my equipment over time, and as both of my shows generate income, I've felt like I can justify the expense.
If you are on a budget and if your room where you record is really isolated, the Blue Yeti does a great job for the $150 price tag. If your room is echoey or noisy, you can pick up some soundproofing tiles pretty cheaply these days.
Anyways, here's what I'm using these days: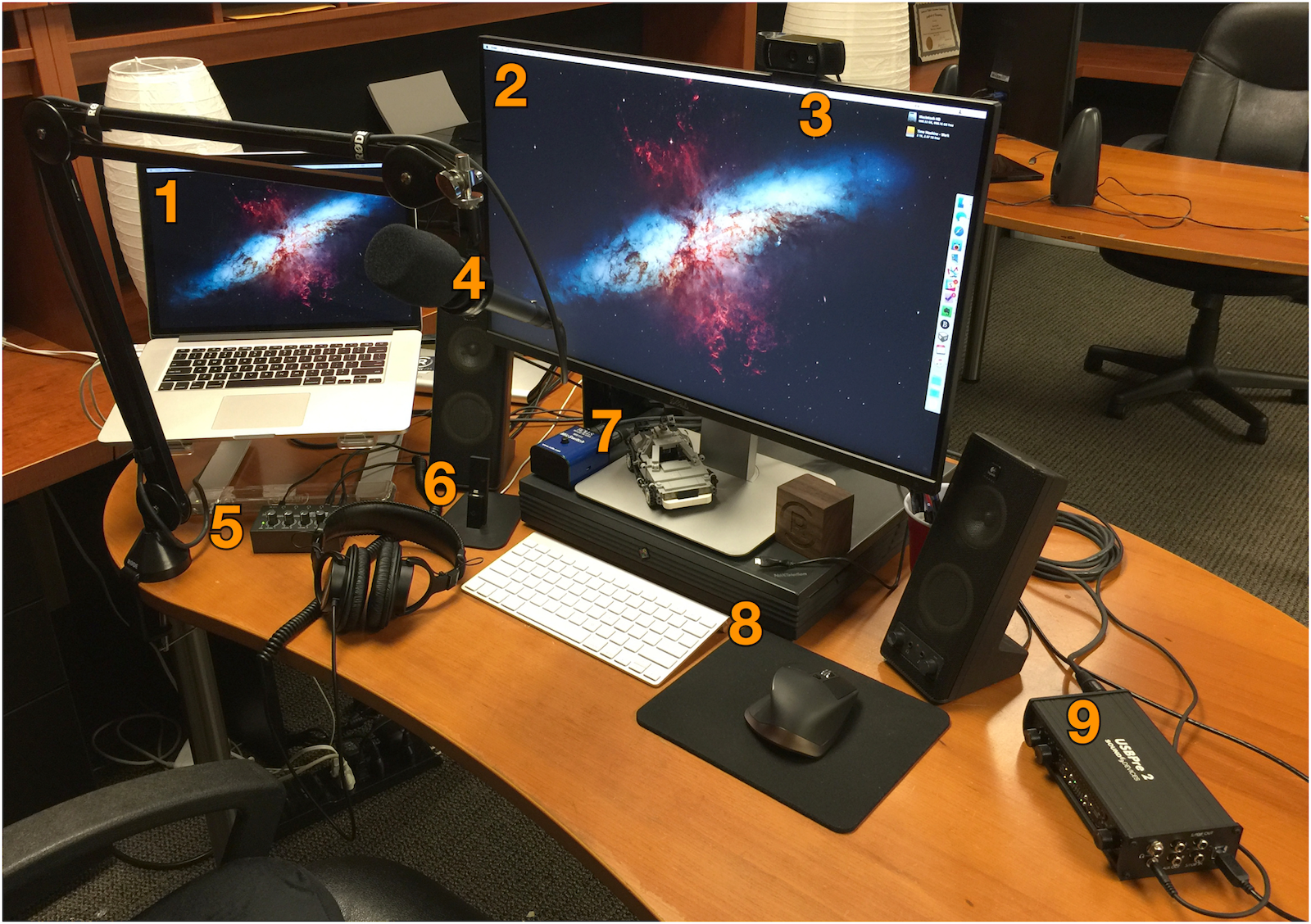 15-inch MacBook Pro with Retina display: This is the new Force Touch model, and I've already gotten used to the trackpad. It's fine once you set it on the firmest setting. I opted for a model without the additional GPU, and so far, I'm happy with that tradeoff. The built-in Intel graphics are more than enough for what I need. It sits atop a Griffin Elevator stand for better airflow. (My wallpaper can be found here on one of my favorite websites.)
Dell UltraSharp U2715H 27-Inch Screen LED-Lit Monitor: This screen is not the nicest 27-inch display on the market, as the resolution is 2560×1440, but I've read such mixed things about external Retina-level displays, so I decided to hold off on buying one. That's not to say this screen is bad, though. The colors are good, its bright, and with a built-in USB hub, it's a nice way to stash some cables. I have it hooked up over Mini DisplayPort via my first-generation Belkin Thunderbolt Dock.
Logitech HD Pro Webcam C920: For video conferences and the occasional video podcast, I picked up this USB webcam after seeing it recommended by a bunch of people. The color and image are both impressive for the money, plus its plug-and-play with Mac OS X.
Shure BETA 87A Supercardioid Condenser Microphone: After a brief fling with a Shure Beta 58, I've finally found the mic for me. It's not as bass-heavy as the 58, and the files I produce with it sound the most like "me," if that makes sense. While it's not pictured here, I'm now using this shock mount and windscreen for it, all on a RODE PSA1 arm that I used with my old Rode Podcaster for years.
I use the BEHRINGER MICROAMP HA400 as my headphone amp. I obviously don't need the 4 outputs, but I've borrowed this from the gear we put together to record Relay FM shows on the road with multiple hosts in the same room. It's not the best headphone amp you can get, but it was cheap and rugged, and it works just fine.
I record and edit listening with a pair of Sony MDR7506 Professional Large Diaphragm Headphones. There is someone I know who isn't a huge fan of these, and he has good points. They are bulky, and can be harsh at time, but I like them for this use for their even tone and predictable nature. I don't want to record or edit wearing something that is going to artificially add bass, for example. Those speakers sitting there are some cheap-ass Logitech ones I bought years ago that just won't die.
Rolls MS111 Mic Switch On/Off: Moving to an XLR-based setup meant that putting a mute switch on my desk was dead simple. This one gets the job done, and can double as a bright blue weapon if I ever need to bludgeon someone.
I type on a standard Apple wireless keyboard, and as of this week, use a Logitech MX Master Wireless Mouse. The MX Master is comfortable, has crazy-good battery life, uses Bluetooth and can be customized in a near-endless number of ways. I have a bunch of custom shortcuts setup with the buttons, and after just a few days I'm already in love with the thing. Oh, and that thing under my display? It's a NeXTstation.
My interface is the Sound Devices USBPre2. This is a very recent addition to my setup, and while very expensive, it's killer. It sounds great, provides plenty of gain for my microphone, is USB-powered (but doesn't rely on software drivers) and has more options than a room full of stock traders. (Sorry.)
So I don't have to end this list with that terrible joke, I'll close with this: a good podcast is about much more than the equipment that turns your voice into ones and zeros. I believe audio quality is a big factor, but having good content and a commitment to the craft — and to a release schedule — are just as important.